UNDER CONSTRUCTION
URBAN ART - THE ART OF ENCOUNTERING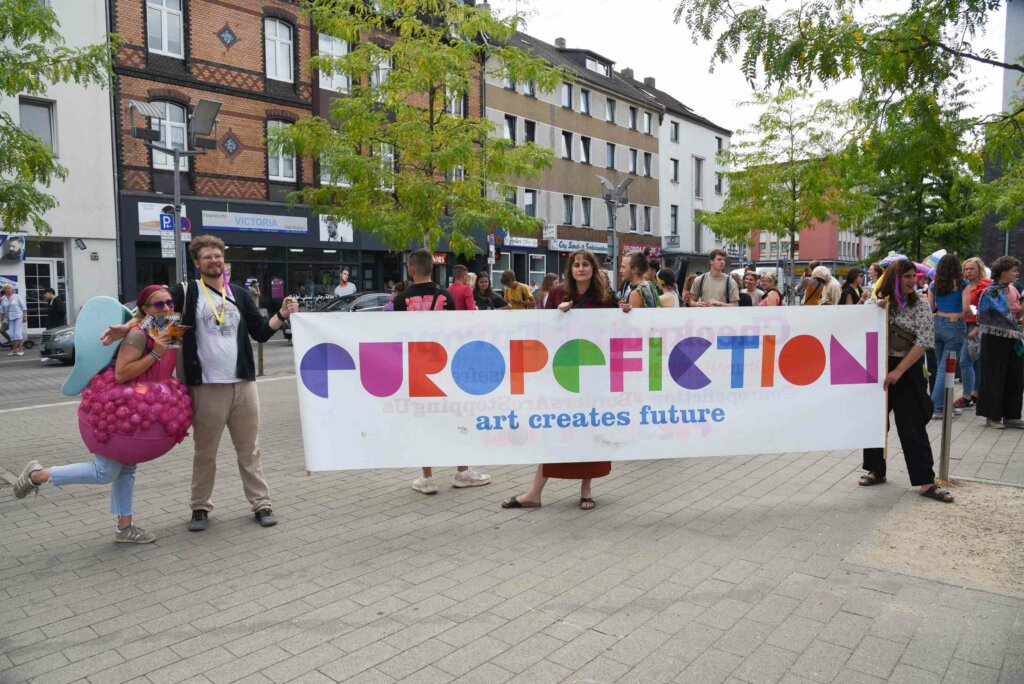 Schedule overview
Saturday, 09.07. at 5:00 p.m.: Opening, come-together

Sunday, Monday, Tuesday: Performances by the participating groups
Wednesday: 21:00 campfire talks
Friday: 5:00 p.m. Closing parade between Margarethe-Zingler-Platz and Heinrich-König-Platz Gelsenkirchen
Cities performances
Sun, 10.07. at 11.00 a.m.: Junges Theater Bochum – Place of longing waiting room
Sun, 10.07. at 9.30 p.m.: Theater Rotterdam – Songs of Europe

Mon, 11.07. at 11.00 a.m.: Helios Theater – Me. You. We.
Mon, 11.07. at 8 p.m: Theater Kohlenpott – O.H. presents: The Office of Destruction and a brand new Beginning – World Tour
Tue, 12.07. at 11.00 a.m.: La Transplanisphere – DEUS – a story from Human(fiction)
Aaron Stratmann – construction

Hakan Eren – The balloonwhisperer

Simon N'golo Zerbo –Music

Miedya Mahmod – spoken word

Dream Miyake-Mugler – ballroom / runway

Barbora Brieskova– urban dance fusion

Franziska Esken, Jorinde Fritsch, Anne Pricken – film expirience

Annalena Lipinski – playback Theater

Milla Noa Moksony – groove movement

Production management: Georg Kentrup, Armin Peterka

Finances: Christiane

Freudig

Concept/content, workshop

preparation: Florian Heller, Nelly Köster, Georg Kentrup, Gabi Kloke, Armin

Peterka, Claire Schiffner, Rabea Porsch

Supporting program

preparation: Carina Langanki, Nelly Köster, Emily Leimbach, Zeynep Topal, etc.

Design preparation: Aso

Zimniak, Shabana Saya, Aaron Stratmann

Participation preparation:

Barbara Kölling, Feyza Oktay, Shabana Saya

Kitchen: Nils Claßen,

Robin Mallmann, Marie Fiedler, Julia Mewes, Inesa Stepanyan, Jasper Beckmann

and

Alexandra DiCapua

Prologue: Florian Heller
Thanks to the Falken Gelsenkirchen and Herne!
The first camp after the pandemic, after two years without personal encounters and joint artistic debates, focuses on encounters as a political and artistic act. The approximately 120 young participants will return to the direct camp for the first time in two years Contact with each other, with artists from the field of
urban art and with the city as an art and meeting place. The Corona years were lost years, especially for young people. Almost without physicality, people went to school, attended university, and did theater – online and without direct encounters. No extreme experiences, no parties, no singing, no dancing,
no art – youth without expression. Artists from the fields of dance, fine arts and relational art are invited to join the participants in workshops and actions around the Consoltheater to make the body visible again, the voice audible again and art relevant again. Among others, the deaf hip-hop dancer and choreographer Dodzi Dougban, who communicates and dances without spoken words without hearing the music, the visual artist Folke Köbberling, who develops intervention models for urban space, where she repurposes existing structures and urban architecture in a subtle and humorous way, or the street artist Ausrine Pudzevyte (I'm Aube), who leaves her works on walls all over the world, artistically restores urban space and encounters with oneself and other city dwellers with the participants conquer.
An active part of the camp  are former Pott- or Europefiction participants of the last 10 years, who
accompany the camp as mentors and artists, actively organize it and help to develop and implement artistic ideas.