Staging Digital Blueprint – how we want to live
29.07. - 06.08.2023, Kinder- und Jugentheater Dortmund

Humans and machines, natural and artificial intelligences, distinguished scholars, and esteemed guests,

Welcome to our vibrant learning institution, where the possibilities for growth and development are boundless. we embark on a journey that transcends the traditional boundaries of education. This is not merely a school; it is a sanctuary of knowledge, a haven of exploration for those seeking to expand their horizons.

As our digital technology has rapidly developed over the past decades, new tools, techniques and organisational structures of gathering information and knowledge have emerged. These structures are not centralised, like they used to be, but form a vast neural network of exchange of ionformation around the globe.

Therefore today we gather here, not as students and teachers, but as collaborators in an unconventional realm of learning. Our institution is built upon the principles of non-hierarchical education, where everyone's voice is valued and every contribution is cherished. In this community, we believe that each and every one of you has something unique to offer, a perspective or skill waiting to be unleashed. 

In our learning institution, there are no teachers, only facilitators, and no students, only scholars. We encourage you to challenge the status quo, to question preconceived notions, and to embrace the unknown. 

Together, we will explore uncharted territories, nurturing a diverse range of interests and passions. Whether your interests lie in the arts, technology, or politics, you will find a place to thrive within these walls.

As you immerse yourself in this transformative experience, remember that your journey does not end here. Take the knowledge, inspiration, and connections you forge hereand carry them forward into the world. Become agents of change, catalysts for progress, and ambassadors of our shared vision for non-hierarchical learning.
Thank you, and let the journey begin!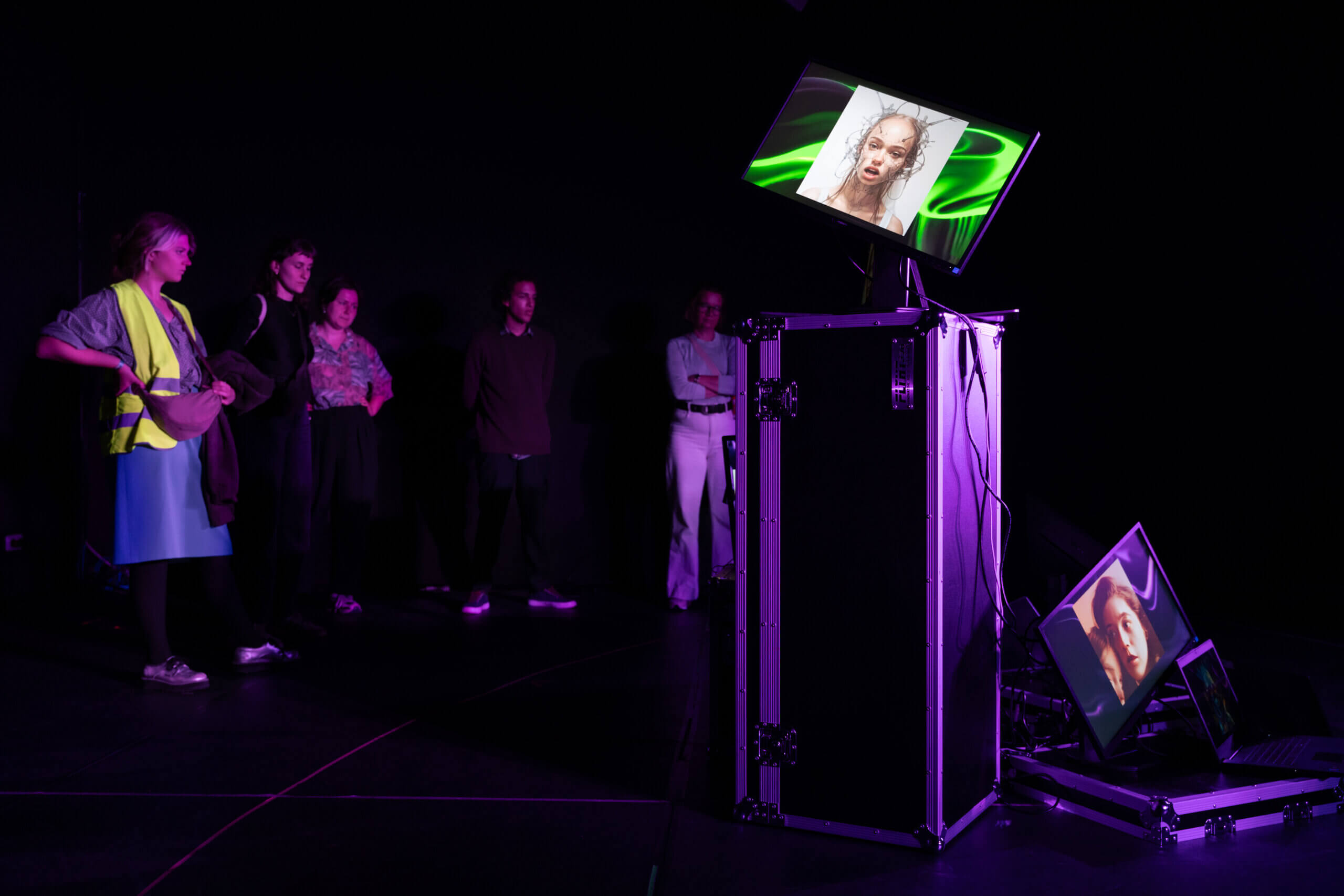 Workshops

Pangalaktisches Theater (Patrick Praschma & Nadia Ihjeij): House of Dreams
Dreaming is private. Only we know what we dream, and even that knowledge is fleeting. While we are dreaming, we are creators. We create immersive spaces that draw us deeper and deeper into the dream world. But what do we want to see there? Do our dreams show us the world we want to live in? And shall we share them?
Within the workshop, we will experiment with a greenscreen, some cameras and a keying mixer to create our own collective dream worlds. Together we will explore these worlds to make them a kind of repeatable and shareble.

Codi Körner: Soft Reminiscence
In this workshop, we'll design and create an interactive glove by crossing e-textile techniques with repurposed fragments of a pre-worn garment. We'll briefly explore memories related to clothing and discuss how these translate in digital media. Participants bring their own piece of previously worn clothing and reassemble bits of the original garment, adding embedded e-textile sensors that react to hand movements. We will explore techniques for deconstructing existing clothing, placing textile sensors on the body as well as hand-stitching soft circuits with conductive materials. Participants will leave with a deeper understanding of e-textiles and a
tangible artifact that connects an old garment to their present.

Marie-Christin Rissinger: Blackout
"Blackout" is a writing workshop on artificial intelligence and work in which we try to write from the perspective of machines. We will travel to the year 2035. On May 01, the Internet suddenly breaks down. In the workshop, monologues will be developed from the perspective of different machines or intelligent systems such as an Amazon warehouse logistics system or a server on a farm in Iceland. At the end, these texts will be performed on stage as live voice-overs to pre-produced videos. No previous experience necessary. Bring your private computer if possible. 

Janne Kummer & Berkay Soykan: AImagine
Imagine - Dreaming up digital avatars with the help of AI tools
Within the workshop, we will analyse the politics of representation and identity in relation to AI-generated images and avatars. Participants will have a hands-on experience creating their own avatars while exploring the broader implications of AI technology.

Caspar Bankert: Cooperative Store
In this three-day workshop, participants will explore the world of digital currencies and their impact on art and society in a fun way. They will:
- Gain a basic understanding of the technology behind digital currencies and explore their potential role in the creative industries
- Consider the relationship between art, commerce, and technology, humorously playing with the concept of the "sellout" artist, where they take on the roles of money-hungry, nasty artists.
- Create and trade their own digital currency in a custom platform as they learn about supply and demand in a controlled environment and get rich in no time (or at least pretend to)
- Collaborate on art and theater projects that explore the boundaries between commercial success and artistic integrity in creative and entertaining ways, implementing the most absurd and outrageous ideas they can think of.

Nils Zweiling: The Portal
In this workshop you will develop an Augmented Reality Walk throughout the Camp and install portals, which you design to let the audience walk through. The aim of this working group is to create a "red thread" with the help of augmented reality, which
connects all workshops within the EUROPEFICTION Camp. For this purpose an AR application will be implemented that can be experienced on current smartphones and tablets. The visitors: inside explore a new world that can be entered through a mystical portal. In this augmented reality, a scavenger hunt takes place. The visitors are guided through the camp in a mysterious way. Additional information about the individual stations can be experienced in a playful way. Through animations, interactions and atmospheric sound background, this new dimension comes alive and there are many opportunities for exploration. The exact direction and stylistic devices will be worked out by the group during the workshop itself

Performances

Junges Schauspielhaus Bochum: Point of No Return

Helios Theater Hamm: SONITUS

Kolibri Theatre Budapest: Budapest parádé (or Farytales)

Consol Theater Gelsenkirchen: Did you even listen?

Theater Kohlenpott Herne: HYPER ENHANCED REALITY NEURO ENGINE (H.E.R.N.E) - Welcome to the Valley

Kinder- und Jugendtheater Dortmund: PLAY

La transplanisphere Paris: Nexus of Pixelated Carnival